Fruit Fancy Dress - Fruit Bowl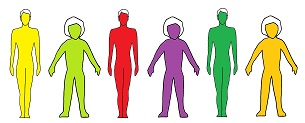 So here is a great idea. Dress your group as a fruit bowl. Each person dresses up as a fruit. Now there are a number of ways to do this. You can find yourself some big fruit costumes or take a simpler approach such as everybody picking a colour to dress as or paint you faces the one colour. Don't forget to take a picture.
Recognizable Pop Band Fancy Dress
Go retro and dress up as a pop band. Back Street Boys and their baggy jeans and caps, Abba in their flairs and white suits and long blond hair, the Jacksons also with flairs and their afros. There are some more contemporary bands such as Daft Punk with their motor cycle style helmets, UK and their leather jackets and R.E.M with their painted brows.
Cartoon Character Fancy Dress
You can often find cartoon characters come in groups and are great to dress up as. A classic is the internationally famous Scooby Doo Mystery Inc, Scooby-Doo, Shaggy Rogers, Fred Jones, Velma Dinkley, and Daphne Blake. If you have a small one in your group you can also include Scrappy Doo and there is also friend Scooby-Dum, Brother Yabba-Doo and Girl Friend Scooby-Dee. There are also all the aliens, monsters, ghosts and ghouls they battle as well.
Other cartoon groups would include the Whacky Races, The Flint Stones, Captain Caveman, He-Man and the Masters of the Universe and the Mr. Men.
A Fancy Dress Competition Prizes
Why not make the fancy dress party perfect and have all the groups of kids leave with an award at the end? We have a pack of certificates that make that possible. Click the image below for more details.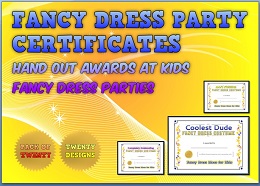 Groups from Society
There are a range of social groups which we know from society. You could go as Policemen, Firemen, Nurses, Builders and Lifeguards.
Film Group Fancy Dress
Ghostbusters are a classic with homemade Proton Packs backpacks. The classic but adult Reservoir Dogs and Mr. White and in fact any Mr. Colour you fancy going as. Super heroes and Super Villains are a great bunch, the main characters working well in a unisex capacity.
Bizarre Fancy Dress Ideas How about going as a series of paintings? Or table utensils or garden equipment. Inanimate objects are funny when taken out of context!